Tersesat itu ngga menyenangkan! Setidaknya itu yang aku alami waktu tersesat di Surabaya sekitar 2 tahun yang lalu. Memang ide yang bodoh… ketika aku menggunakan papan iklan sebagai patokan. Pas nyadar ternyata begitu banyak papan iklan yang sama, aku sudah ngga tau entah ada di mana. Hari sudah semakin gelap, yang terbaca cuma tulisan "Selamat Datang di Sidoarjo". Mempersingkat cerita, waktu itu akhirnya aku ketemu Gramedia lalu mampir dan membeli sebuah peta Surabaya. Hehe…
Ternyata, tersesat itu ngga cuma di real life. Klo tersesat di sebuah website, sering kita akan dibawa ke sebuah halaman 404 dengan pesan "Not Found". Bosen banget kan?
404 File Not Found is a message in the case of a "404 error"; it appears in most web browsers when the connection works, and the first part of the URL correctly leads to a working web server, but the rest of the URL specifies a page that does not exist on the server.
If the connection does not work, or the first part of the URL is wrong, or the web server does not work, other messages are generated.
The 404 error is one of the standard response codes of the web's HTTP protocol. The first 4 indicates a client error such as a mistyped URL. The middle 0 refers to a general syntax error. The last 4 just indicates the specific error in the group of 40x, which in this case is "URL Not Found". The use of three-digit codes is similar to the use of such codes in earlier protocols such as FTP and NNTP.
These errors can be customized on a large number of such servers, such as Apache, to display a page that could be of more help than a default. Internet Explorer will not read these pages, however, unless they are larger than 512 bytes.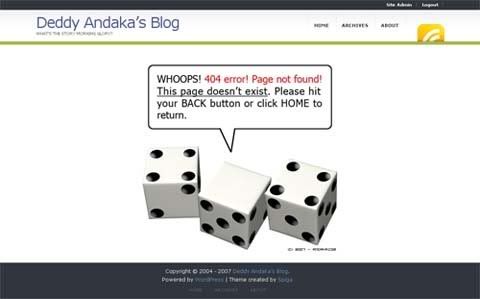 Seperti yang disebutkan di point terakhir, page 404 ini bisa di-costumize. Namun kenyataannya masih banyak yang cuek pada halaman yang satu ini. Setelah beberapa hari yang lalu sempet ngeliat kreasi orang-orang terhadap halaman 404 mereka di Smashing Magazine, jadi pengen ikutan nih. Sebenernya sih banyak ada ide, tapi untuk saat ini aku pake yang satu ini. Check this "dice" out!